BS"D
One of the most basic and fundamental elements of teshuva is the yearning for change— the longing to break through the blocks, fears, doubts, and confusions that prevent us from reaching our spiritual potential.
This sincere yearning alone is a very powerful thing. Don't ever underestimate it.
You may feel very far away from who you could be. You may have fallen into the deepest, darkest pit with no escape in sight, but don't despair. Even if you don't have the ability change at the moment, even if you feel like you are going backwards.. just keep yearning for better. The desire to connect to HaShem, to those around you, and to your own unique inner light, is the very thing which can bring that transformation about.
Teshuva with a Single Thought
According to the Talmud (Kiddushin 49b), "If a man betroths a woman on the condition that he is completely righteous, even if he is completely wicked, she is betrothed, for he may have a had a thought of teshuva in his heart."
A single thought, a moment of yearning for change can take a person out of the category of being a completely wicked and put him in the category of the completely righteous.
This isn't in a figurative sense; it's the reality at that moment.
In Parshas Vayera, regarding Hagar and her son Yishmael, the Torah states:
וַיִּשְׁמַ֣ע אֱלֹהִים֘ אֶת־ק֣וֹל הַנַּ֒עַר֒ וַיִּקְרָא֩ מַלְאַ֨ךְ אֱלֹהִ֤ים אֶל־הָגָר֙ מִן־הַשָּׁמַ֔יִם
וַיֹּ֥אמֶר לָ֖הּ מַה־לָּ֣ךְ הָגָ֑ר אַל־תִּ֣ירְאִ֔י כִּֽי־שָׁמַ֧ע אֱלֹהִ֛ים אֶל־ק֥וֹל הַנַּ֖עַר בַּֽאֲשֶׁ֥ר הוּא־שָֽׁם
And God heard the lad's voice, and an angel of God called to Hagar from heaven, and said to her, "What is troubling you, Hagar? Fear not, for God has heard the lad's voice in the place where he is."
On the words, בַּֽאֲשֶׁ֥ר הוּא־שָֽׁם ( in the place where he is), Rashi brings an interesting exchange between the ministering angels:
באשר הוא שם: לפי מעשים שהוא עושה עכשיו הוא נדון ולא לפי מה שהוא עתיד לעשות, לפי שהיו מלאכי השרת מקטרגים ואומרים רבונו של עולם, מי שעתיד זרעו להמית בניך בצמא אתה מעלה לו באר. והוא משיבם עכשיו מה הוא, צדיק או רשע, אמרו לו צדיק, אמר להם לפי מעשיו של עכשיו אני דנו 
where he is: According to the deeds that he does now he is judged and not according to what he is destined to do (Rosh Hashanah 16b). For the ministering angels were accusing and saying," O Lord of the Universe, for one who is destined to kill Your children with thirst, You are bringing up a well?!" And He answered them, "What is he now, righteous or wicked?" They replied, "Righteous." He said to them, "According to his present deeds I judge him"
Bereishis 21:17
There are two interesting things in this Rashi.
The first is the words,
מעלה לו באר
You are bringing up a well
Why are these words used? Chazal tell us that the well was already there; Hagar and Yishmael just didn't see it:
Rabbi Binyamin said: All are presumed blind until the
Holy One, blessed be He, enlightens their eyes.
We know this from the verse:
G-d opened her eyes and she went and filled up the water skin."
Midrash Rabbah Genesis 53:14
The angels should have questioned why the well was revealed to them, or why HaShem had chosen to open Hagar's eyes. What does it mean that HaShem was "bringing up" a well for Yishmael?
According to the Maharal of Prague (Netzach Yisrael 54), a well symbolizes the yearning and longing of a person to connect to HaShem, since the water contained in it flows upward from the ground. This is contrary to the nature of water which flows downwards.
Perhaps they were referring to a well of a spiritual sort. Yishmael cried out to HaShem with the desire to return to Him, and HaShem responded by creating a path, an increased flow of desire, longing, clarity and strength for Yishmael to complete that journey in his lifetime.
But, this flow of Sciata D'Shamaya would not have happened had Yishmael not sincerely longed for it in the first place.
And, that brings us to the second point…
In the Heavenly realms, it was crystal clear, even to the angels, that Yishmael was in the category of righteous at that precise moment– a moment that changed his mazel, and the direction of his entire life.
It's as the Baal Shem Tov taught, that a person is where his thoughts are. If you sincerely desire and long for change, then in the spiritual world, you are actually there, regardless of what it looks like "down here."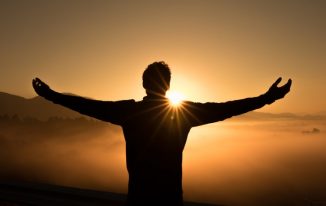 It may seem like little to nothing has changed, but if you persist, then HaShem will respond with the Divine wellspring of spiritual strength and clarity you need to break through those blocks, fears, doubts, and confusions that are preventing you from reaching your spiritual potential.